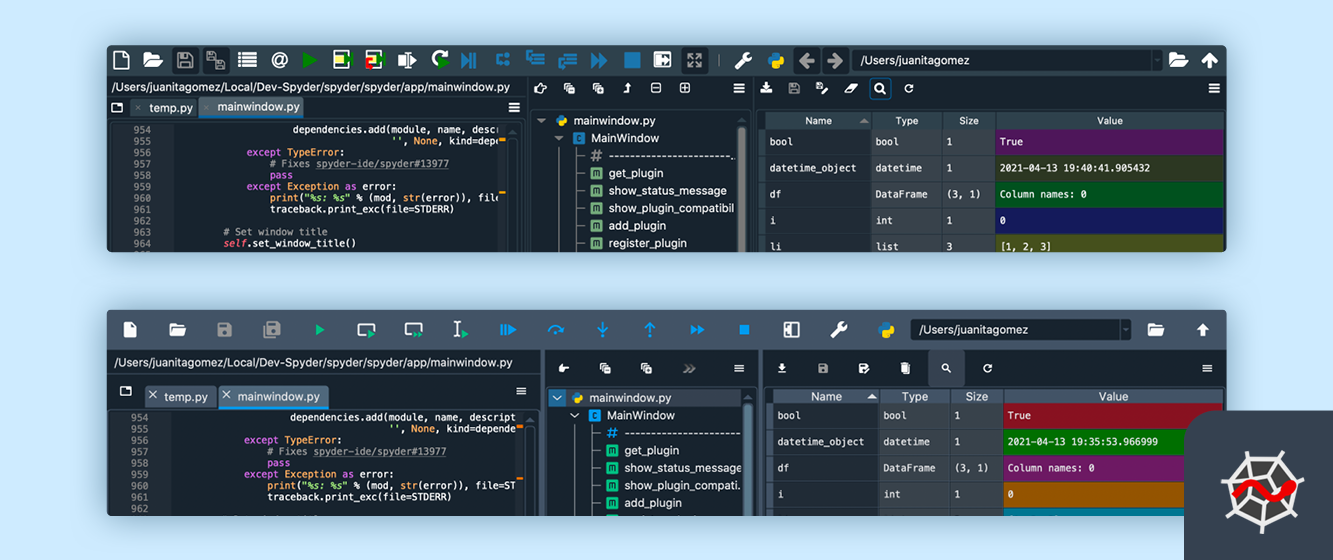 In case you missed it, Spyder 5 was released at the beginning of April! This blog post is a conversation attempting to document the long and complex process of improving Spyder's UI with this release. Portions lead by Juanita Gomez are marked as Juanita, and those lead by Isabela Presedo-Floyd are marked as Isabela.
What did we do?
[Juanita] Spyder was created more than 10 years ago and it has had the contributions of a great number of developers who have written code, proposed ideas, opened issues and tested PRs in order to build a piece of Spyder on their own. We (the Spyder team) have been lucky to have such a great community of people contributing throughout the years, but this is the first time that we decided to ask for help from an UX/UI expert! Why? You might wonder. Having the contributions of this great amount of people has resulted in inconsistencies around Spyder's interface which we didn't stop to analyze until now.
When Isabela joined Quansight, we realized that we had an opportunity of improving Spyder's interface with her help. We thought her skill set was everything we needed to make Spyder's UI better. So we started by reviewing the results of a community survey from a few months ago and realized that some of the most common feedback from users is related to its interface (very crowded, not consistent, many colors). This is why we decided to start a joint project with Isabela, (who we consider now part of the Spyder team) called Spyder 5!!!